Rachel Derstine -Fiber Artist
Every year we have the Anacortes Arts and Crafts festival in town.  It's always such a privilege to see so many talented artists in one place and nearby!  I had the good fortune to meet Rachel Derstine, who is  an amazing fiber artist.
She was on a month long trip selling her wares at many fine arts shows across the US.  One more show to do, then  it's back home for her to create more exceptional works of art.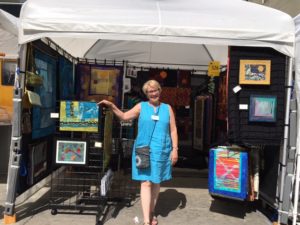 ---
Here are some stunning photos of her work.
 
---
Thanks for stopping in A-town. We hope you have a safe journey home and look forward to seeing your next inspiration!
If you are interested in purchasing one of her awesome finished pieces, this is her contact information:
Rachel Derstine
403 Dartmoor Rd
Schwenksville, PA 19473
email: rachelderstine@gmail.com
rachelderstinedesigns.com