Pantone® Color of the Year 2018
Pantone 18-3838 Ultra Violet

I don't know about you but purple is one of my favorite colors.
So I couldn't be happier than when I heard that 2018 color of the year is "Ultra Violet",
a beautiful, deep tone of Purple.
---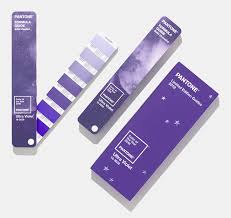 Inventive and imaginative, Ultra Violet lights the way to what is yet to come.
"A dramatically provocative and thoughtful purple shade, PANTONE 18-3838
Ultra Violet communicates originality, ingenuity, and visionary
thinking that points us toward the future." -Pantone®
---
---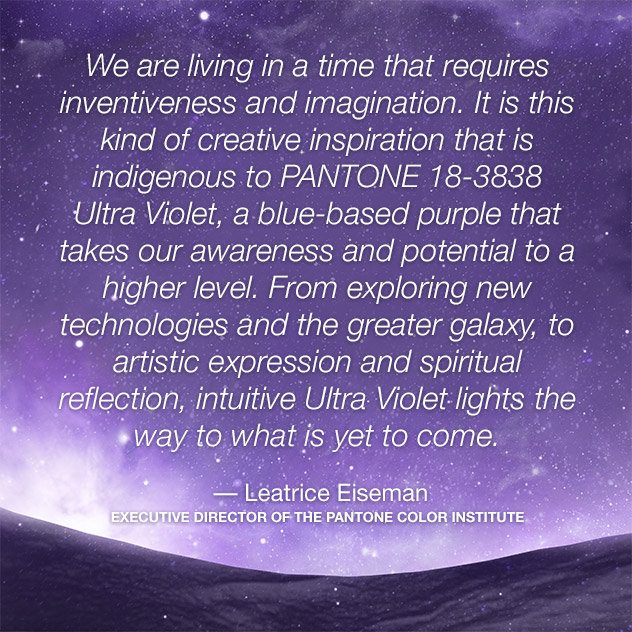 "The Pantone Color of the Year has come to mean so much more
than 'what's trending' in the world of design; it's truly a reflection
of what's needed in our world today." – Laurie Pressman, Vice President of the Pantone Color Institute.
---
 Not sure what to do with this information?
Here are some of our wonderful Batik Fabrics featuring Ultra Violet to help you plan your next project.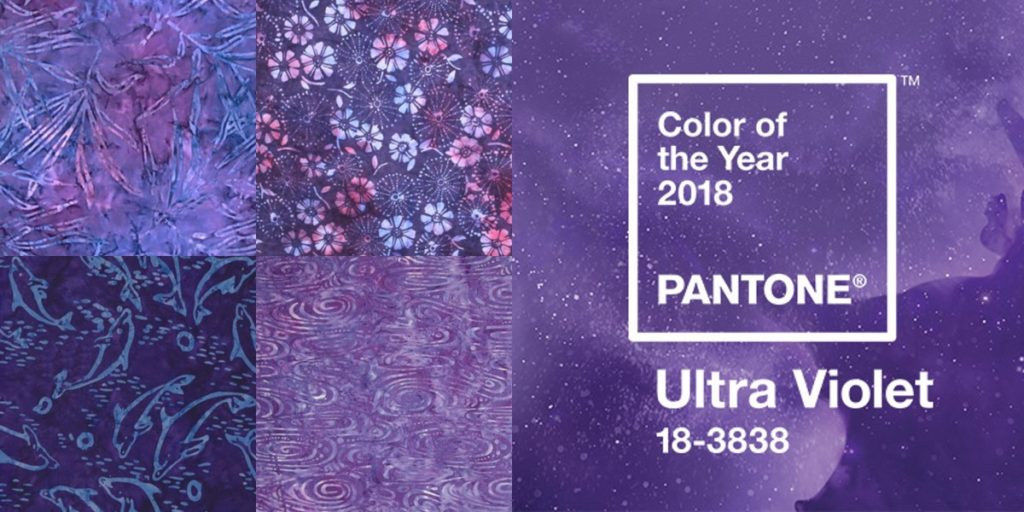 Top left: Large Light Blue Ferns on Grape -Available in Cotton- CBF5330K
Top left: Large Light Blue Ferns on Grape -Available in Cotton- CBF5330K
Top right: Garden Phlox on Dark Purple -Available in Cotton- CBF5825H Available in Knit- KBFXX5825H Available in Rayon- RBF05825H
Bottom left: Dancing Dolphins on Purple -Available in Cotton- CBF5700H
Bottom right: Lavender Lagoon -Available in Cotton- CBF5506K Available in Rayon- RBF05506K
Shop Purple Batik Cotton Fabrics
Shop Purple Batik Rayon Fabrics
Shop Purple Batik Knit Fabrics
Maybe just a hint of Ultra Violet

Top left: Purple/ Magenta Ornate Diamonds Available in Cotton- CBF5470K Available in Rayon- RBF05470K
Top middle: Fanfare on Multi -Available in Cotton- CBF7730K Available in Rayon- RBF07730K
Top right: Colorful Butterflies on Magenta Grape -Available in Cotton- CBF7330H Available in Knit- KBFXX7330H Available in Rayon- RBF07330H
Bottom left: Midnight Jungle- Available in Cotton- CBF4660H Available in Knit- KBFXX4660H Available in Rayon- RBF04660H
Bottom middle: Mulberry and Blue Fern Grotto -Available in Cotton- CBF3180H Available in Knit- KBFXX7880H Available in Rayon- RBF03180H
Bottom right: Nature's Canvas- Available in Cotton- CBF7330K
---
Ultra Violet in Fashion
"On the runway or the streets, Ultra Violet is an enchanting purple that provides a theatrical linkage for both men's and women's styles.
True to the coupled nature of Ultra Violet, created by combining red and blue, Ultra Violet lends itself to unique color combinations in
fashion and is easier to pair with all colors on the spectrum than one might think. With golds or other metallics, Ultra Violet becomes
luxurious and dazzling; with greens or greys it evokes natural elegance. Similarly, Ultra Violet takes on distinct appearances with different materials." -Pantone
Here is one of Patterns for inspiration:

Pattern 105- Reversible Quilted Jacket
Make sure you check out our blog Choosing Multiple Colors for a Pattern