Oh My Stars!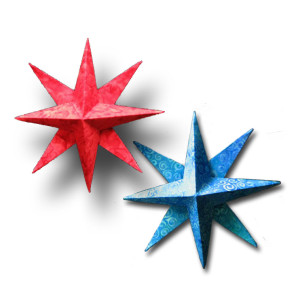 Any time is craft time! It's a great stress reliever and adds a bit of fun to life. Here's a twist on a simple fun project, great for any time of year.  Make those cute paper stars out of fabric instead! They make great decorations (think holiday, Independence Day, weddings, etc.) or last minute gifts. Making stars in fabric instead of paper results in longer lasting and more interesting artwork. There are many how-to's on Pinterest and YouTube, so pull up your favorite and grab your scissors and glue. Each of our fabric stars took approximately 30 minutes to make. Here are the materials we used:
8 ½" square of Batik Cotton
8 ½" square of heavy double-sided stabilizer (available in most craft and fabric stores or online). We used 72F Peltex® II Two-Sided Fusible Ultra Firm Stabilizer.
Colored cardstock in the same color family of your fabric, cut to the same size as your fabric and stabilizer.
Cut your cardstock, fabric and stabilizer to the same size. Our stars are 8 ½" square. Fuse the fabric to one side of the stabilizer (without steam), ironing it with the fabric side up. Fuse the cardstock to the second side of the stabilizer (with steam) with the fabric side up again.   Your fabric star is ready to cut and fold. Follow the instructions of your chosen media and start seeing stars!   We used the following tutorial from YouTube to construct our fabric stars: "Make paper stars featured in FamilyFun" https://www.youtube.com/watch?v=P1U_rVOlLlc
For our stars we chose CBF4470K Peacock Flourish and CBF3802H Strawberry Hand Dye.