No-Sew Super Cool Knit Scarf!
Ah, how time flies by!
It seems like just yesterday we were all setting the table for turkey dinner, and now the holidays are just around the corner! (Along with the chilly weather).
Here in 7 simple steps, is a scarf that anyone could make and enjoy.
It requires little assembly time (less than a half an hour), little sewing experience (there's actually no sewing involved!), and  little expense (it only costs $6.82 to make). All these things combined create a lovely gift for the winter season! I know what all of my friends are receiving this year!
*Before starting your project, lets explore some benefits of using Batik Knit Fabric. Knit is so fun and easy to work with! It's a type of fabric that wont't ravel; this is helpful because the ends will not need any finishing. It's cozy and flexible, perfect for a scarf! The price is so reasonable because each scarf only requires 3/8 yard of 72″ wide knit fabric. Check out our unique styles and designs on our website > Knit Fabric.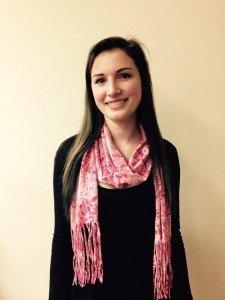 *Tools needed:
measuring tape, chalk, and scissors.
Steps:
1. Iron flat 9″ on each short end of fabric. Cut off selvages.
2. Measure 7″ up from each end.
3. Mark line across fabric with chalk pencil.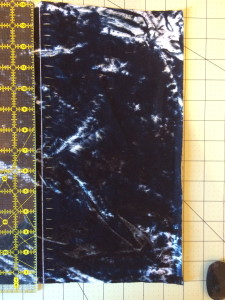 4. To make fringe, measure and draw a line with chalk pencil every 1/2″ on the 7″ mark to the selvage end of the fabric.
This step doesn't need to be exact; when you wash the scarf, the fringe will curl up to different lengths.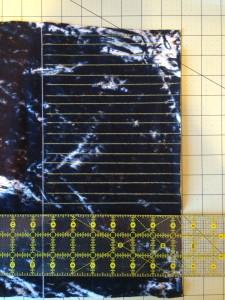 5. Cut each marked line from edge up to the 7″ mark.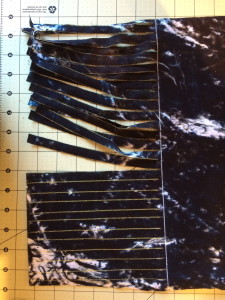 6. Repeat above steps on other end of fabric.
7. Wash and dry. Finished and ready to wear!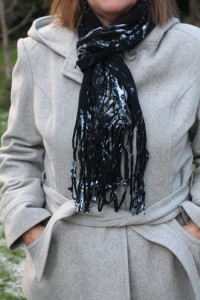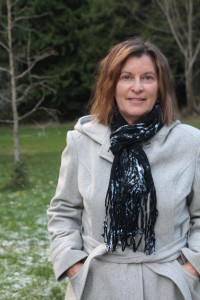 Here are some more fantastic knit scarves to share!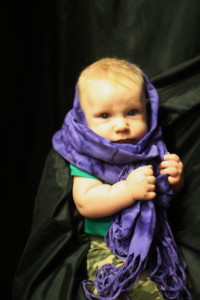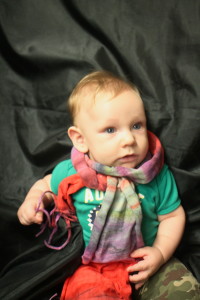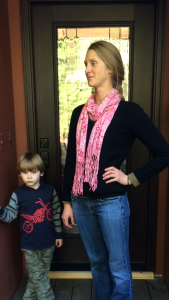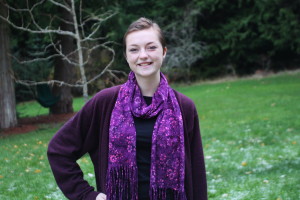 Get snuggled up by the fire with our No-Sew Super Cool Knit Scarf!