Make this Cute Frog Beanbag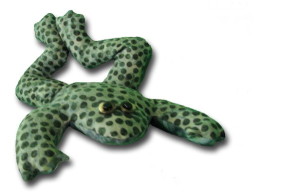 Sometimes you just have to let your fabric speak to you. This fabric was new to our collection in 2013 and we called it "Spotted Green Turtle" but every time we walked by the cotton bolts in the warehouse we could hear a faint "ribbitt" coming from the folds.  So it just had to be done. This fabric really wanted to be a frog and so we pulled up Pinterest and found the following pattern from among many.
It was quick to cut out, simple to sew, and pretty easy to stuff (as evidenced by actually getting more beans into the bag than on the table) and took only about an hour to put together. We spent more time trying to find the perfect eyes from whatever we had in our buttons-n-beads* stash.
Download the pattern, piece it together (just two pieces), and then stand back and listen to your stash to find out just which fabric wants to be a frog!
*We found two green-ish buttons, and along with two black beads for pupils, sewed them to our frog.
Like the "Spotted Green Turtle" fabric?  Here's where you can find it on our site.
Click Name for the link to the pattern we chose from Pinterest.