Interview with Jenny Ives
Our very good friend, Jenny Ives, took third place in the 2017 Emerald City Comicon with her beautiful Cinderella Transformation Ball Gown. We promised an interview with Jenny and here it is.
---
---
First a little background information on Cosplay and the Emerald City Comicon.
What is Cosplay?
The term is shorten from costume play. This is a performance art in which participants called cosplayers wear costumes and fashion accessories to represent a specific character. Many cosplayers invest all sorts of time, money, and love into their outfits.
What is the Emerald City Comic Con (ECCC)?
The Emerald City Comicon (ECCC) is an annual comic book convention taking place in Seattle, Washington, at the Washington State Convention and Trade Center. This 3 day event features a wide array of activities and programming including industry guests, various discussion panels, celebrity signings and photo opportunities, prize drawings, and costume contests. As well as a merchant mall.
---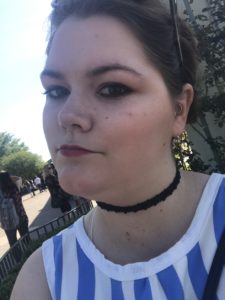 We met Jenny when she was just a young girl through her mother, a seamstress who makes patterns and samples for us frequently. Jenny has worked on and off for Indonesian Batiks since she was in high school.

---

"Jenny is a very talented and creative person." -Vicki Hawkinson

---

Jenny has been sewing since she was 5, she states that, "[sewing] has always been a part of me".  She began designing costumes in high school, however, Jenny tells us that it wasn't the most important thing to her at that time in her life. Her love truly began in 2013 when she attended her first convention.

Like a lot of her convention costumes, the Cinderella Transformation Ball Gown was a recreation of one of her all time favorite costumes. This ball gown was modeled after the gown used in Roger and Hammerstein's Cinderella performance at the 2013 Tony Awards. After four long years of thinking about what she would need to do to create such a piece, her ideas began to take shape and finally came to life.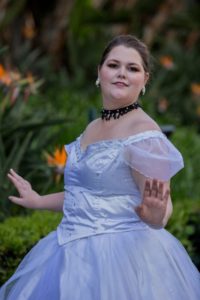 I
It took Jenny six months of planning before the three additional months of actually constructing the gown. "The most complicated part would have to have been the hoop skirt." Jenny answered. The hoop skirt she made using just an average, everyday garden hose. Next to the complications of the hoop skirt, Jenny says that the pipping on the bodice was just as problematic due to it being extremely time consuming, but boy did that time pay off!
For the last few years, Jenny has been mainly rejuvenating other people's costumes plans to create designs made for her. This year she finally sat down and started creating her own designs, and is working on her very own line. "I'm always thinking about what's next, I have a board filled with ideas of what I want to do. It never ends for me." Jenny said, "But for the big one next year, you're just going to have to wait and find out!"
We look forward to it Jenny, and can't wait to see with what you come up with next!
---
We see no end in sight for the wonderful and talented artist.
Here are just some of Jenny's other wonderful Cosplay designs from this year.