How to make and wear a Sarong
What is the best part of Summer?
Sunshine and the beach!  Are you looking for a quick and easy cover up  to wear to the beach?
A  Sarong is the perfect choice to complement your beach wear- just simply wrap and tie.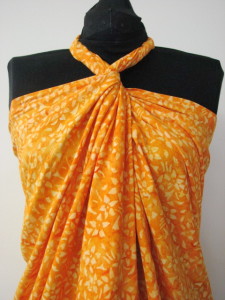 For making a Sarong, our Rayon Batik fabrics are  stylish and chic!
Rayon Batik fabric is soft, lightweight, comfortable, flowing and drapes elegantly.
We have included a YouTube video at the bottom of the blog, showing many ways to wear a sarong.
 How to Make a Sarong
Items Needed:
Rayon Batik Fabric SHOP NOW>>
Sew Machine or fabric adhesive tape (such as Heat and Bond)
---
It's simply a long rectangle of fabric, no pattern necessary!
The standard size sarong is 66″ in length by 45″ wide.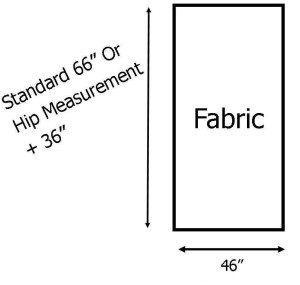 However, with every woman being a different size, we found the best way to get the right size for  your body is:
your hip measurement + 36″.
Our Rayon Batik Fabric is 46″ wide and wouldn't need to be adjusted for the length. (Unless you are petite or want a shorter sarong)
To finish, first cut off the selvage edge. Then  fold each raw edge  1/4″  and press to wrong side of fabric. (6 mm)
* If you have  a serger, first serge  then fold and press.
Fold again to the wrong side and sewing along the inside hem edge.
If you don't sew, create a "hem" on the folded edges and use fabric adhesive tape.
(We suggest Heat'n Bond Iron-On Adhesive Hem, which works great with rayon.)
That's it!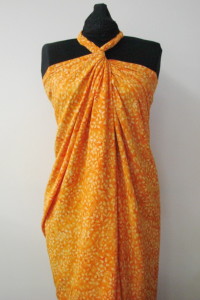 Lemon and Daffodils on Orange- RBF03715H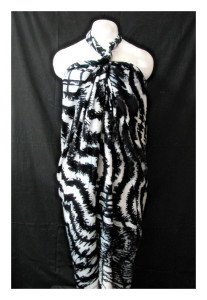 Black and White Gala- RBF01104K
Now that you know how to make a sarong you just need to know the many different ways to tie and wear a sarong.
Watch the YouTube video and you are ready for the beach!
Enjoy your summer!
How to tie and style your sarong – youtube video