Fun & Easy Knit Top
As the cold weather closes in on us, we're all seeking out cozy clothing that looks chic with our boots and warm coats.
Knit fabric is great for layering, which makes it a wonderful addition to our fall and winter wardrobe.
Today, I'll be showing another pattern that looks great in knit fabric!
The pattern I used for this top comes from New Look, the style number is 6453 and it can also be found at most major fabric stores.
Of the four pattern options, I made option A, which is worn by the model on the cover of the pattern packaging.
This style features a cap-style short sleeve and trapeze hem.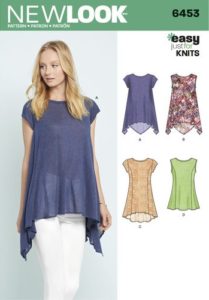 For this pattern, I used my Batik Knit, which is hand-dyed in Indonesia by local artists.
The technique involves using handcrafted stamps dipped in wax and it produces vibrant, unique fabric.
I chose Mulberry and Blue Fern Grotto, featuring a stunning fern motif.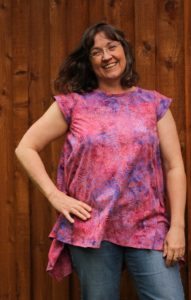 If you're looking for a fall/winter colored knit to use for this pattern, I would suggest Amethyst Jewel.
Amethyst Jewel features a rich wine color that bears a striking resemblance to one of Pantone's Top Ten Colors for Fall 2017.
Happy Sewing!