Behind the Scenes: Setting Up for a Sewing & Quilting Show
Have you ever wondered what it takes to run a booth at a sewing and quilting show?
Well, you're in luck! We're going to unveil the inner-workings of a sewing and quilting show.
The pictures included in this post are from The Sewing & Stitchery Expo, which took place in March
at the Washington State Fairgrounds in Puyallup, Washington—we were among over a hundred vendors!
Our morning starts with the unloading of our trucks. Typically we bring one large U-Haul truck and
another smaller trailer filled to the brim with our fabrics. Unloading usually takes two people a few
hours to complete. The items from our trucks are unloaded into our designated booth area. At this show,
our space was about 10 feet by 30 feet. Once all of the items are unloaded, we get to work on setting up our space!
We start by setting up our own booth framework, "pipe and drapes", on which we hang curtains
and string lights. This creates the walls of our booth and allows us to add more lighting. Before
we put in shelving or start organizing, we put down our padded carpet squares. The squares are
much nicer to stand on than the hard floors of the venue. At this event we saw other people using
their own flooring, as well. Some choose to roll out a section of carpeting in their booths.
Once the pipes are up, we hang the drapes and cover the overhead pipes in our own fabric sheaths.
We then hang lights that point into the booth and provide better lighting for our fabrics.
Next, we set up our shelving structures and tables, then we are able to start organizing the space.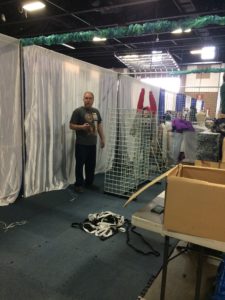 In our booth we have two tables set up, one for cutting fabric and another for the register.
Both of these tables are covered in fabric.
The organization process is the most time consuming part of setting up—patience is a must!
We hang up the samples and displays, some items need to be ironed after their journey to the venue.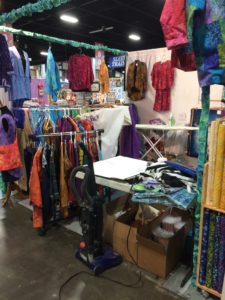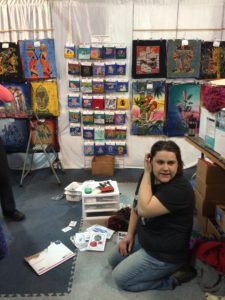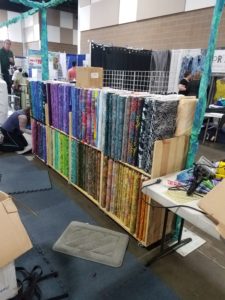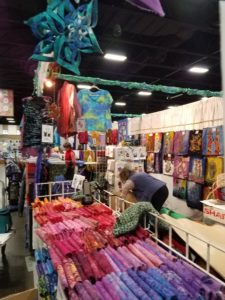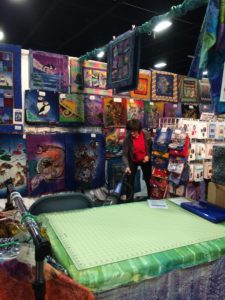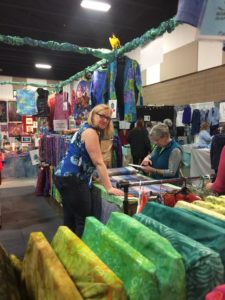 After tidying up and straightening our displays, we head back to our hotel.
The next morning we're ready for the show!