About Indonesian Batiks
Please enjoy our presentation of the most interesting and colorful artistic expressions in the world.
Whether you are in search of Batik Paintings, Batik Fabrics in Cotton, Rayon, and Knit or unique Patterns, you have come to the right place.
We offer the latest batik designs available from Indonesia.
---

Our selection of Batik Art Paintings provide quilters, fabric artists, and interior designers with an opportunity to combine an ancient art form with a contemporary use.  Each Batik Art Painting is handmade individually using 100% cotton fabric. Currently we have over 700 fabulous designs of Batik Art Paintings in all styles, colors and sizes.  These are great for quilt projects, as medallion pieces, banners clothing or simply used as a signed art wall hanging.  On our Project Ideas page you will see many fantastic beaded, stitched and bedazzled quilts, clothing and fabrics.
We also offer our exclusive line of Batik Fabrics.  Our extensive selection of Cotton Batik Fabrics, offers quilters & fashion designers just what they need for their next project. The Rayon Batik Fabrics are suitable for all fashion sewing, with endless possibilities. This elegant fabric drapes nicely and is fun to wear. We are the only supplier of Knit Batik Fabric in the US. Knit Fabrics are comfortable, easy to sew and great for travel.  Batik Knit Fabric is perfect for skirts, jackets, tops, pants, scarves and more. All of our Batik fabrics are machine washable and dryer safe.
---
Are you looking for that unique pattern not offered in chain fabric stores?  We have many remarkable Fashion Patterns, Quilt Patterns, and Accessory Patterns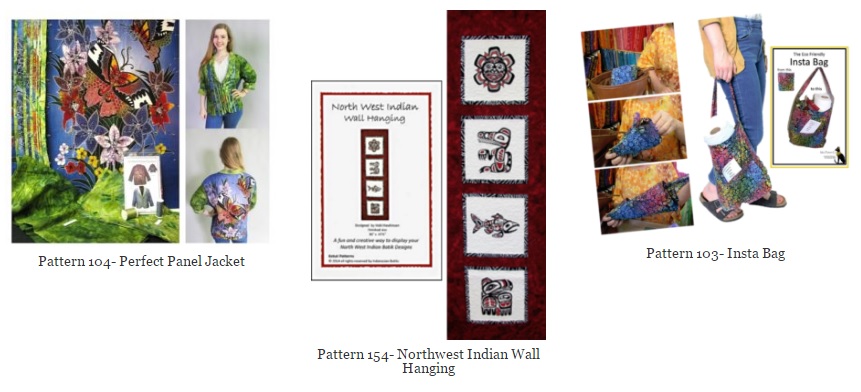 ---
We pride ourselves on our prompt and friendly service as well as our huge variety of batik.
"Hi there, I just received my parcel now, and I am DELIGHTED with it.  This is the absolute first time I have ever ordered fabric online – it's always seemed a bit risky to me, not knowing if the colors would actually be how they appear on the screen. I am just thrilled with the rayon batik and can't wait to make a gorgeous shirt with your pattern. Thanks again, Julie"
"Thanks for your fast service and great fabrics. –Joanne"
"Thank you – really, really appreciate everything you have done for me.  –Lizzie"
"Thank you so very much. I really appreciate this, and will tell other folks how efficient you are 🙂! – Dianne"
"I came across your website and absolutely love the vibrant colors and patterns of your batik as well as the fact that they are authentic and traditionally dyed. – Sophia"
---
At Indonesian Batiks it is our mission to provide you with access to Batik Art and Batik Fabrics created by Indonesian artists. 

It is our way of keeping alive an ancient art form, which is part of a vibrant and beautiful culture.
At Indonesian Batiks we work directly with the artists and are pleased to offer their high-quality batiks to you.
It is our way to help the artists show their work and offer it to you at a reasonable price.
---
About Indonesian Batiks Owner and Founder
 Vicki Hawkinson
After college I spent a few years traveling around Asia and South East Asia. While visiting Indonesia I fell in love with the people, art, and culture of the region. It was here in Indonesia where I took my first Batik class in 1982. I purchased several Batik Art Paintings and returned to the US to sell at street fairs. I knew I wanted Indonesia to be part of my life forever, and so in 1984 my company Indonesian Batiks was launched.
Fast forward 32 years and now I run an online wholesale/ retail business that offers more than 700 different Batik Art Paintings, 1000's of yards of Batik Fabrics in Cotton, Rayon, and Knit, as well as numerous garment and quilting patterns. Batik is my passion and staying connected with friends in Indonesia brings me great joy in my life.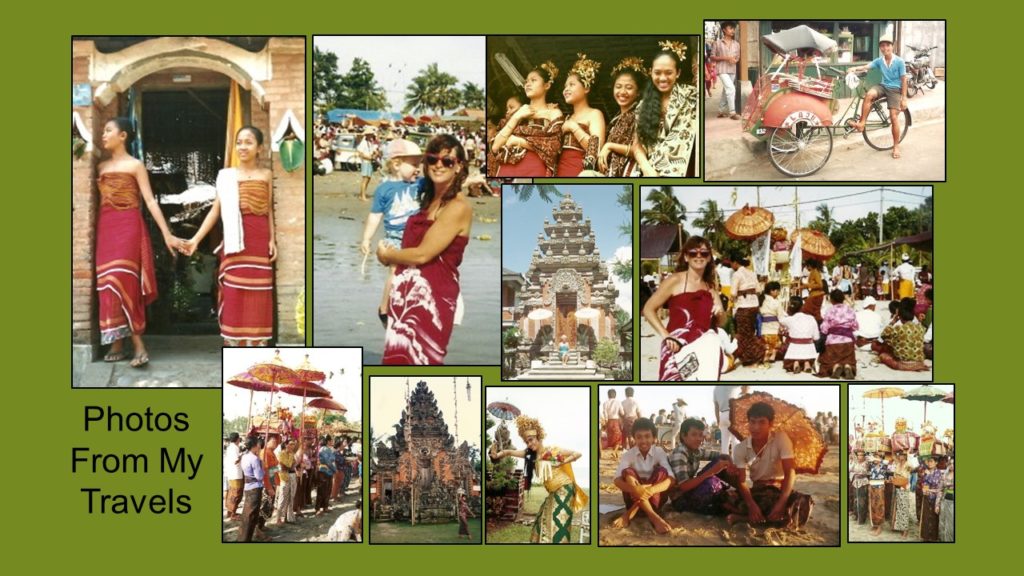 Learn More About Our Batiks