A New Look For Spring!
The Perfect Panel Jacket is a beautiful, functional piece of art and clothing in one. With a Batik painting displayed on your back you can be a walking masterpiece! This is a quilted jacket made with batting on the inside and free motion designs to compliment the painting. On the painting the free motion quilting was done by following the outline of the designs. On the batik fabric, the design was drawn out with chalk ahead of time. Afterwards the design was free motion stitched following the chalk lines. Shiny thread was used around the outlining of the butterflies and flowers, and the thread used on the sleeves was very close to the fabric color. The back of the Perfect Panel jacket in the image shown below uses the BF202 Large (picture of butterflies) and the front is pieced together with strips of BF176 Medium (half on each side). Both of these can be found on the Butterfly section of the batik paintings on our website! BUTTERFLY BATIKS >>
This pattern (for both versions of the jacket) offers an optional button up front and turned back sleeves to form cuffs.
PATTERN 104- PREFECT PANEL JACKET >>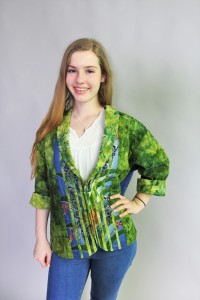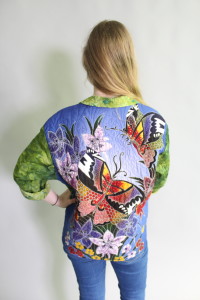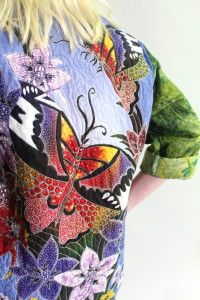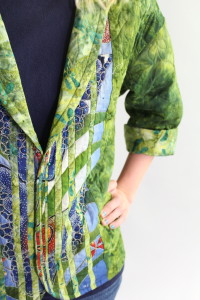 Add some pizzazz by ironing or hot fixing Swarovski crystals and rhinestones to your Batik painting!
Here is a  helpful video if you would like to see how this is done! 
You can find them online in all kind of colors, shapes, and sizes.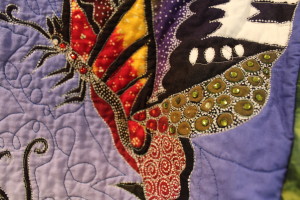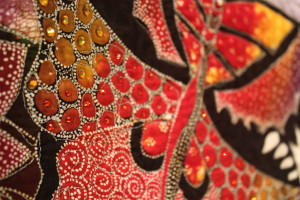 If you are interested in a simpler version you can use cotton fabric! This version of the jacket does not require quilting; you can use a lining and alternating fabric on the front as shown below.